This is the second part/month of my challenge to build 12 side projects in 12 months
In February 2022, I focused on building Underscore Digital – an SEO/content marketing agency that helps SaaS businesses get customers by creating content that ranks on page 1 of Google.
Compared to my last endeavour, an agency was a pivot I wanted to make for good reason. Selling a high-ticket B2B service that only requires a handful of customers was the most efficient way to achieve my ambitious goal of reaching $10K MRR by the end of 2022.
In the process, I'd learn valuable communication, hiring and marketing skills I could apply to my own SaaS projects down the track.
While the approach was financially sound, there were glaring issues that I shouldn't have ignored. The foundation was built on quicksand rather than solid ground.
Here's a week-by-week breakdown of how it went.
🗓️ Week 1 – 29/01 – 04/02/2022
Like last month, I made no progress in the first week of this month. My energy was scattered trying to hit (never-ending) deadlines at work, trying to sell my car, inspecting apartments (I was still in between places to stay), and getting destroyed by COVID vaccine side effects.
I needed more time, energy (and capital to buy time and energy). Hence, work, selling my car and finding a place to stay seemed like bigger priorities than building a side-project this week.
🗓️ Week 2 – 05 – 11/02/2022
The second week was an inflection point; I went from an idea to $500 per month and 2 clients.
I set up a basic website using WordPress, Siteground hosting and a theme I bought from Themeforest. It took me around 2 hours and around $125 (for the domain, annual hosting and theme).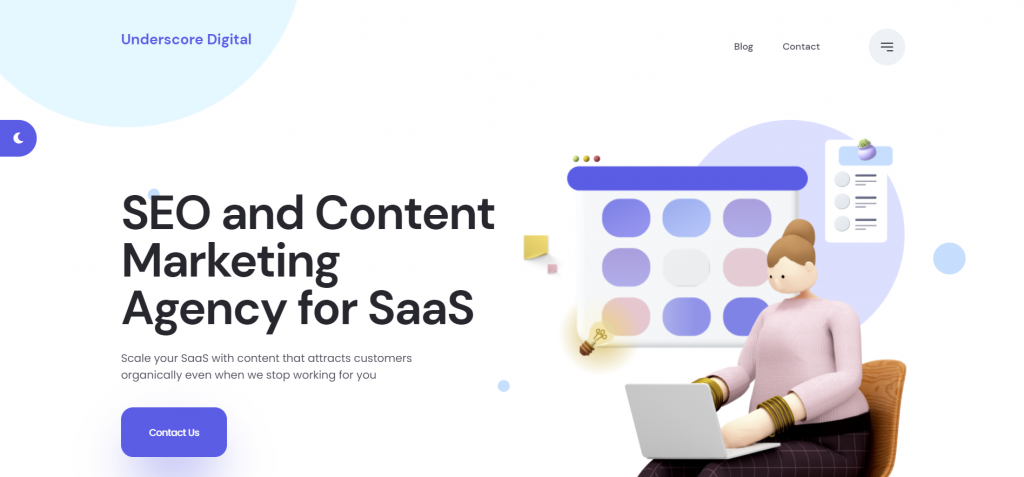 After getting "established", I chose to ask for help from people who'd had experience running agencies or starting blogs before starting outreach straight away. I only had a month to validate this business so I needed to work smart.
I spoke to two people; a writer who's retired from the income his affiliate blogs provide and an ex-agency founder who'd had a 6-figure exit. I found out where to get leads, what to offer, how to write articles that rank on Google and the challenges of running an SEO agency. It was invaluable.
Armed with this information, I started my first outreach campaign which got me results from day one. From my earlier conversations, I learnt that the best place to get your first leads are through personal connections and the second best place is via communities where your target audience hangs out. In my case, I was already well established in the Indie Hackers community on Twitter; I had both personal connections and a community to source from.
So I reached out to 5 people on Twitter; 3 personal connections and 2 semi-influencers to "try my luck". All of these were people with SaaS' that had little-to-no SEO presence or content on their blogs. My offer and outreach message was simple; I noticed you didn't have a blog, I can help set you up for free.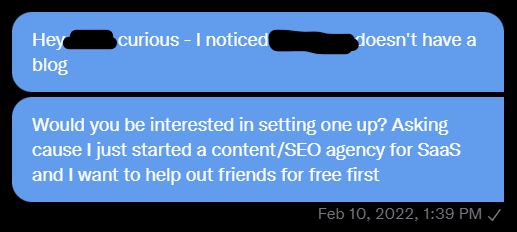 Initially, I wanted to help personal connections (or influencers) get real results for free. This would give me confidence, validation and real testimonials/case studies I could leverage to get high-paying clients in future.
And it worked! 2 out of 3 of my personal connections said yes and one even refused to let me do the work for free and offered to pay me $500 per month for 4 articles per month. Judging by their responses, this was a very real problem that needed addressing: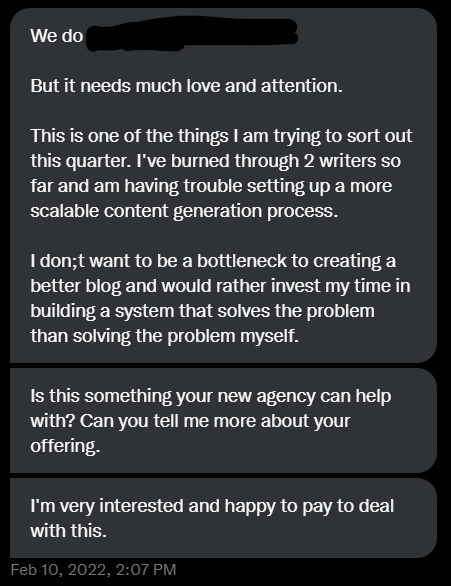 🗓️ Week 3 – 12 – 18/02/2022
I had two clients and now I needed to get them customers by creating content. The deal with both clients was to write four articles per month (roughly one per week).
…And straight away I realized I hated this. The constant meetings/synchronous work, writing and researching topics I didn't care about and the fact the "business" couldn't run without me. These were inherent qualities of an agency and yet I ignored them for the lure of hitting my $10K MRR goal in the most "efficient" way possible.
I tried pushing through it; I did onboarding calls, site audits, keyword research and wrote a 1000-word draft. But after just 18 days, I saw the writing on the wall and shut down shop. Though not the primary reason, the high workload of my job and Tressel accelerated the decision. I realized the limited time and energy I had would be better spent elsewhere.
📜 Lessons learned
The journey is equally as important as the goal
Reaching my goal of $10K MRR is meaningless if it means enduring work and a lifestyle I hate in the process. There's only ever a "today" and goals should be designed to improve that "today".
In that sense, purely monetary goals are dangerous (e.g. earn $10K per month, reach $1M net worth). Money is nothing but an option to get or do what you want. Sacrificing what you want to have the option to get or do what you want in future is a net loss even if your bank balance is going up.
A better approach could be setting goals with constraints on how you'll achieve them. In my case, I want to reach $10K MRR while having time (and location) freedom, doing asynchronous work (no meetings) on projects that can run without me.
Validate for product-market-fit and product-founder-fit
You are equally (if not more) important to your product's success as your customers are. A business is a tool to improve your customers' and your own life; if it doesn't do even one of those, it's the wrong business.
In your first month, don't just try to see if people would pay for your product, see if it adds value to your life (either via enjoyment, exploring a curiosity or "scratching your own itch") regardless of the rewards.